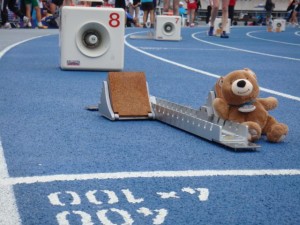 If you promise not to call me names, I'll tell you my true confession. Promise?
Since August 2009, I've gained nearly ten pounds.
New readers may not know that after ten years of focused effort to bring my health metrics in line, I had the honor of representing the United States in the 2009 Master's Track and Field World Championships, in Finland.
So now that the big goal – the motivational carrot – is no longer in front of me, I've digressed.
This happens to everyone.
The gift from all of this?  It has increased (if that's even possible) my conviction that an impossible goal is the only one that will work.
Have you ever thought about that? I mean the impossible goal part?
Then perhaps we can journey and endeavor together, to make 2010 a great and healthy year. Who's in?