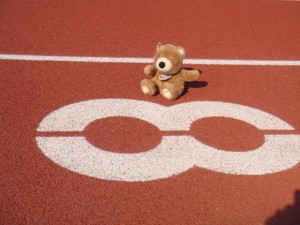 Haven't run in five (5) days.
How is that possible?
Mister "you have to find a way" or your doomed, Mr. Internet five-a-day blogger, Mr practice what you preach, Mr. self-appointed wellness expert.
Yeah, tell us why you have "failed" this week.
First of all, who am I to be calling myself such names, with that stern tone?
Ease up already mister.
There is an inherent challenge with an impossible goal.
It is, well, quite literally, impossible.
To think that we could consistently get regular exercise for the rest of our lives is preposterous.
Rubbish.
It can happen.  It will happen.  It is happening.
Went to the gym for strength and core training last night.  And, after a few commitments this morning (I'm Off today), I'll go for a run.
Dream big.  Get started.  Never stop.