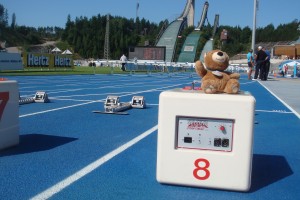 Lane 8 at 2009 World Championships in Lahti, Finland.
That's "Jack", my son's Teddy Bear. He has three exactly alike. He got them as gifts years ago.  The collar is actually inscribed "Jack".
Our son was born in August 2000.  My Dad, Jack Noel, passed on, April 2001.
My Father, and our son, never met.  We were two months away from our trip to Pennsylvania when the phone call came, "They're giving your dad three days".
So, "Jack" the bear, has traveled extensively. He's the one with two torn ears.  The other "Jacks" are in near perfect condition.  Our son was gracious enough to let the "tug-o-war with our yellow Lab" Jack travel.
Find a million ways, gimmicks, tricks – whatever it takes – to stay motivated.  Jack is simply one of them.