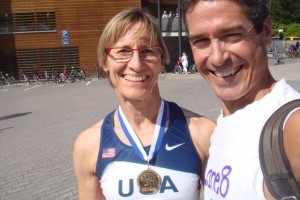 Rita Hanscom was selected as Master's Track and Field Athlete of the Year for 2009.
Rita Hanscom (San Diego, Calif.): Named World Masters Athlete of 2009 by the IAAF and World Masters Athletics after winning five gold medals in Lahti and setting a world record in the W55 heptathlon. She's a deputy attorney general for the state of California.
The photo above is from the 2009 Master's Track & Field Outdoor World Championships in Lahti, Finland. It was a privilege to meet Rita and her son and daughter.
In Finland, there was a sense of community and fellowship among the 5,300 athletes from 80 countries. It's challenging to explain. It was unique, competitive, healthy and vibrant, supportive.  Amazingly supportive.
Who couldn't use as much of that that the law will allow, in pursuing and maintaining a healthy lifestyle?