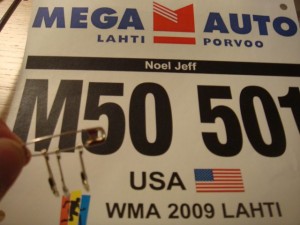 The 2010 Master's Athletics Indoor Master's Track & Field World Championships are being held March 1-6, 2010 in Kamloops, British Columbia.
The deadline to submit your entry is tomorrow, January 31.
World Championships?  Are you kidding me?
Ten years ago, absolutely.
Today, not so much.
In the for what it's worth category, click here to view the Men's 50-54 Master's age group entries.
Most people can not even fathom what it would take to compete at a world-class level. Which is perfect, because Lane 8 isn't about how to run faster, it's about how to never stop running…..or walking, or swimming, or cycling, or dancing, or whatever it is that you find motivation to do.
Just keep moving.  Just keep eating well. Just keep being a great health example to the people you care about. That's why Lane 8 exists.