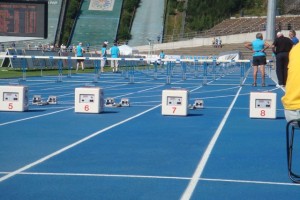 Significant human achievements, especially "firsts", are rare. And they are rare because no human has ever done such a thing before. If we are lucky, we may see a few in our lifetimes.
What comes to mind from your own experience?
Tyson Gay, second fastest human ever, in the history of the world, is the ONLY human to run:
sub 10 in 100 meters
sub 20 in 200 meters
sub 45 in 400 meters
A few weeks ago, Tyson ran a 400 meters PR 44.89, to set the milestone above.
If you enjoy Track & Field or have a curiosity about the current hype between Tyson Gay, Usain Bolt and Asafa Powell – the three fastest humans of all time are running in the same lifetime, in the same meets – then you will probably enjoy this article from IAAF.org