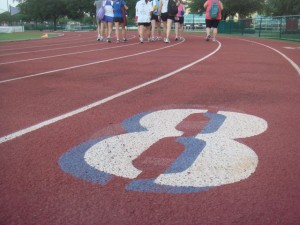 Ever have cool (free) opportunities to be invited in? To join a group? To have a privilege you always thought would be cool, but didn't know where or how to start?
How'd that work out for you?
Tuesday evening, the stars were aligned, so on the drive home I finally got to do it. Had been invited about two months earlier to join a local runner's group, after meeting the organizers at the annual Central Florida Corporate 5k – this year with 12k+ runners.
And as today's blog post title implies, it was at Disney's ESPN Wide World of Sports complex, a world-class facility.
This all leads up to today's message.
The longer and harder you work, the luckier you get. And if this has eluded you, it simply means you haven't worked long enough or hard enough. Tough thing to hear for some of you, but true.
Dream big, get started, never stop. You CAN do it.