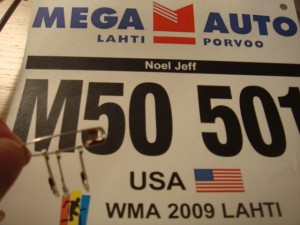 This post has been copied from the Lane 8 archives and reposted here today:
Race day at Lane 8 – August 4, 2009.
Men's 400 meters, 50-54 age group.  Call time 2PM.  Heat time 3PM.
By the time my preliminary heat is over (8AM EST), most of you back in the United States will just be waking up.
I visualize myself running and feeling God's pleasure.  Running effortlessly, not to compete, but running simply because I can.
I don't know why I run sometimes, all I know is that I enjoy it, and cannot help myself.
There is a popular misconception that winning is everything.
May I antagonistically challenge that?
Winning isn't everything, doing your best is everything.
Don't sell yourself short.  Be as great as you can be.  Even if you finish last.  Even if you are not a runner.
Carpe diem, jeff noel 🙂
next blog